Archive for February, 2009
Feb
27
This is one of the largest man-made holes in the world, a diamond mine deep in the reaches of Siberian Russia. It is about 600 meters deep (that's over 1800 feet for the American folks). The top layer of the hole is about a mile across, and a little over half a mile wide.
According to the Wikipedia article, the open-air mining will cease around 2010, and operations will shift into an underground manner. A few of the research papers devoted to this mine state that diamonds are probably still available to a depth of about 1000 meters or so.
The settlement near the mine is named after it (Udachny), and also feels local weather patterns because of being next to this giant hole.
You can see this mine for yourself via Google Maps.
Feb
26
You're probably here because of a random search. Well, i'm no expert, but i've got some equipment, and i've been shooting for only a little while. I'm probably the perfect person to offer an objective point of view! I'm a newbie too. Just like you, but the only difference is that I have some gear, and you don't (yet).
Well, I want to help you. I want to help you save money, time, and frustration. So without further do, please allow me the opportunity to set you straight on a few things.
The equipment DOES NOT really matter!
Persistence and patience do matter, however.
Being creative and curious helps a lot.
Special effects are easy. Time consuming, but still… easy.
Connections help more than expensive lenses.
The explanation for each of these points continues after the break.
Feb
26
You're probably here because you searched for this:
Microsoft SQL-DMO (ODBC SQLState:42000)

[Microsoft][ODBC SQL Server Driver][SQL Server] To connect to this server you must use SQL Server Management Studio or SQL Server Management Objects (SMO).
Feb
23
We use Xythos at our workplace to provide a file repository for students and eventually faculty and staff. It's basically a web front end for a file system.
My personal feelings about the product are somewhat ho-hum and indifferent. It makes funny noises under the hood, it's a bit clunky, but it works, runs on Linux and it's reliable.
So you're probably here because you searched on this error:
java.lang.ClassFormatError: Truncated class file
The problem is that you're probably running your Xythos installation over port 443 (as you should) but there are still components trying to pull files down from port 80. With Xythos, if SSL is enabled, any requests to port 80 get dumped over to 443, and you will get truncated errors like above.
Feb
17
Well, this is the long-delayed next part of my ongoing comparison between the Canon 1D Mark III and the Canon SX110. For those of you wondering why in the hell I am even trying to compare one of Canon's premier digital SLR cameras versus one of their budget point-and-shooters, check out this posting in which I try to explain some of the insanity.
Can you tell the difference between output from the two cameras? (Comparison gallery is posted after the 'read more' button)
Feb
12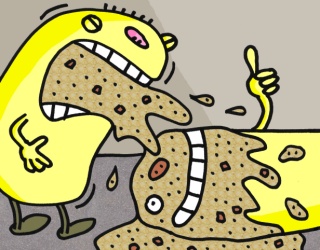 It seems that the processed food industry has a lot in common between these two countries. Or perhaps its just better to say that corruption and greed have no language barriers.
The 2008 melamine tainted milk scandal in China has a surprising number of similarities with the Peanut Company salmonella scandal that is currently unfolding in the USA.