Mar
19
This article is part of the small but growing Index of Pancake Lenses!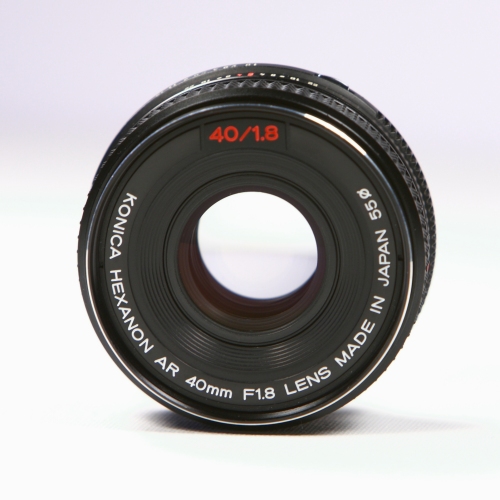 Specifications for the Konica Hexanon 40mm f/1.8


"Honorary Pancake"

Years Produced
1979 - 1989 (Discontinued)
• Discontinued, but widely available on used market
Street Price
US - $59.00 (In 1979)
Lens Type
Normal
Available Mounts
• Konica AR

Optical Construction
6 elements in 5 groups with 1 aspherical element
• Gaussian type lens
Weather Sealing
No
Aperture Blades
6
• Note that some samples of this lens have an odd 'stagger' effect to their aperture blades at f/2.8 and f/4
Focus Type
Manual Focus
Image Stabilization
No
Min. Focus Distance
• 0.45m
• (17.72 inches)
• Maximum magnification ratio 1:7
Dimensions
• 63.0 x 25.0mm
• (2.48 x 0.98 inches)
Weight
• 140g
• (4.94 ounces)
Filter Size
55mm
Hood
Some versions of this lens came with an integrated metal 55mm screw-in hood.
By many accounts that I have found online, this is a pretty sharp lens. It gets a bit of a bad rap sometimes, but mainly because it is being compared with its sibling- a non pancake 50mm lens, which apparently is very highly regarded and considered one of the sharpest lenses EVER made for 35mm cameras.
Unfortunately it only works with the Konica-Minolta KM mount, and that has been a bit harder to port over to other mount types without making destructive modifications.
Construction & Ergonomics
This lens is very well built. It is primarily metal, and has an excellent feel to its focus ring. I personally like heavily dampened focus rings, and the copy that I own has that in spades.
The aperture adjust ring is a bit on the narrow side however, but this is a problem that is endemic to most pancake sized lenses. The feel and action of the aperture ring is quite positive though. There's not too much guessing about whether or not you are between f-stops or if you are totally dialed in.
The one thing that you should be aware of though is that if adapting this lens to another camera, the automatic exposure mode for the aperture setting can be a bit troublesome. There is a button on the aperture ring which normally does nothing, but if AE mode is selected, it must be pressed before the aperture ring can spin freely again. It seems like it would take a little getting used to but is really a minor ergonomic issue in the grand scale of things.
Aperture Blades – Bokeh Shape
On other copies of lenses I have seen (I have only seen 5, and most of them on eBay) it exhibits some strange bokeh at certain apertures. This is most likely due to a design issue, but without having known about these lens when initially released I can't entirely say. The aperture blades develop an odd 'stagger' at certain apertures – particularly f/2.8. The problem goes away for the most part at f/4 and is extinct at f/8.
A lens with the aperture blade 'stagger' effect along with some sample shots can be found here:
The following pictures are of my lens, and how it appears on the equipment. I don't have any sample shots taken through my own lens, as I have not yet adapted it to my Canon camera body.
This is the lens at f/2.8. Note the 'staggers' in the aperture blades.
This is the lens at f/4. Note that the 'staggers' drop noticeably.
Some Notes for Canon Adapters
At time of writing, there are no Konica to Canon EF adapters on the market yet which preserve infinity focus. The ones that do exist are basically extension tubes, which will NOT allow the lens to work at infinity.
I will try to make a conversion to this lens which preserves infinity focus, but this will likely require a 'sacrificial' Canon camera body, with a machined lens mount that has a recess to allow for the Konica mount lens to fit without any destructive modifications to it.
I don't have anything to show for my efforts yet, but this page will be updated once something happens. The path I will take will most likely be machining a prototype out of brass- essentially converting this Canon body into a dedicated K mount camera.
Some Reference Links To Chew On
9 Responses to 'Konica Hexanon 40mm f/1.8'
Leave a Reply