Mar
14
This article is part of the small but growing Index of Pancake Lenses!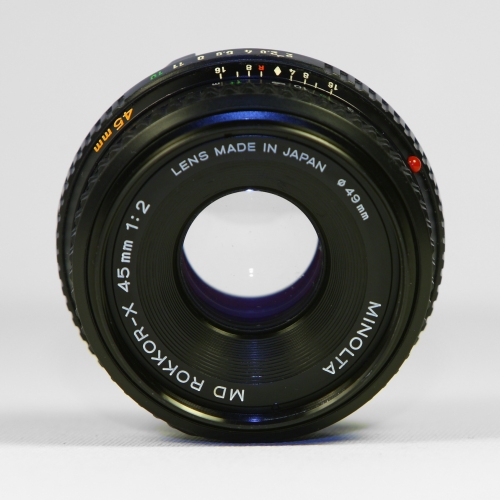 Specifications for the Minolta MD Rokkor-X 45mm f/2.0


"Honorary Pancake"

Years Produced
1978 - 1984 (Discontinued)
• I'm reasonably sure about these dates, but there is a margin of error as I am going solely on some gaps within old product literature as a reference.
Street Price
US - $57.00 (In 1978)
• This lens can be had for fairly cheap- around $20-$100 USD dependent on condition and where purchased
Lens Type
Normal
Available Mounts
• Minolta MD

Optical Construction
6 elements in 5 groups
• Gaussian type lens
Weather Sealing
No
Aperture Blades
5
Focus Type
Manual Focus
Image Stabilization
No
Min. Focus Distance
• 0.60m
• (23.62 inches)
Dimensions
• 63.0 x 25.0mm
• (2.48 x 0.98 inches)
Weight
• 125g
• (4.41 ounces)
Filter Size
49mm
Hood
I have a copy of this lens which I picked up on eBay for a bargain. I have in mind to figure out how to non-destructively mount it to a Canon EF mount while retaining full functionality.
The register depth is slightly less than the EF mount, which makes the conversion a bit more interesting. Also on my copy, there is a protrusion for the aperture gate which needs to be taken care of/removed, as it would slap into the mirror on a full frame Canon DSLR.
This thread on camerahacker.com discusses some of the issues involved with such a conversion.
In general, Minolta Rokkor lenses are well regarded, and I am excited at the prospect of having this work with Canon EF.
The -X Designation
The designation making this lens a 'Rokkor-X' has no real meaning, other than marketing purposes for lenses that were exported from Japan to US and Canadian markets. To the rest of the world this lens is known as the "Minolta MD Rokkor 45mm f/2.0".
Some Reference Links To Chew On
This Lens Is Alive! – Updated May 14 2010
The bad news is that I didn't mount this on a Canon DSLR, but the good news is that I am indeed using this lens… with a very unlikely companion… the Canon PowerShot S400 point and shoot camera. I have the lens handheld in an inverted position in front of the camera. The S400's lens barrel fits perfectly and snugly inside the first 'ring' of the 45mm's front element. The Rokkor is fantastically sharp. Below are some shots I have taken with this dynamic duo:
One Response to 'Minolta MD Rokkor-X 45mm f/2.0'
Leave a Reply