Mar
18
This article is part of the small but growing Index of Pancake Lenses!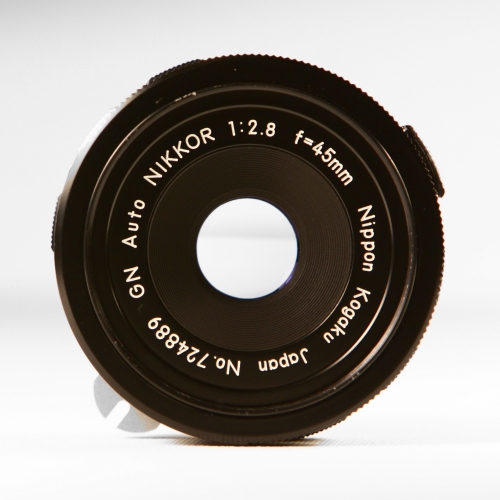 Specifications for the Nikkor GN Auto 45mm f/2.8


"Pure-bred Pancake"

Years Produced
1968 - 1977 (Discontinued)
• Four versions of this lens were produced in total
Street Price
US - $60.00 (In 1968)
Lens Type
Normal
Available Mounts
• Nikon F

Optical Construction
4 elements in 3 groups
• Only models SN 760009-773047 (1973-1977) have coatings
• Tessar type lens
Weather Sealing
No
Aperture Blades
7
• Note that an early edition of this lens (SN 710116-725421) has 9 blades
Focus Type
Manual Focus
Image Stabilization
No
Min. Focus Distance
• 0.80m
• (31.50 inches)
Dimensions
• 64.0 x 31.0mm
• (2.52 x 1.22 inches)
Weight
• 150g
• (5.29 ounces)
Filter Size
52mm
Hood
52mm screw-in lens hood P/N 108-03-200
I have one of these lenses, which was picked up recently from eBay. It is somewhat harder to come by on the used market and thus commands higher prices. Despite their age, many of these lenses in circulation are in excellent condition, and still operate as if they were brand new. Mine is no different. Aside from some cosmetic damage from wear and tear, this lens pretty much looks like it did on it's birthday, rolling out of Nikon's Yokohama factory.
Lens Versions
Note that there were four major revisions of this lens that were produced. They are generally all very similar with the exception of the first production run, which has an aperture diaphragm that has more blades, and is slightly heavier than newer revisions.
Production data is listed below and comes from the marvelously comprehensive listing compiled by Roland Vink:
| | | | |
| --- | --- | --- | --- |
| Name | Serial Numbers | Dates Produced | Features |
| Nikkor GN Auto NKJ | 710116-725421 | Aug 1968-1970 | Has 9 aperture blades, plus support for Ai kit 83,84,85 |
| Nikkor GN Auto NKJ | 725743-733948 | Aug 1970-1971 | Has 7 aperture blades |
| Nikkor GN Auto Nikon | 740195-745837 | 1971-1973 | Has 7 aperture blades |
| Nikkor GN Auto C | 740195-745837 | 1973-March 1977 | Has 7 aperture blades, multicoated lens |

Construction & Ergonomics
This lens is built like a rock. It's absolutely a joy to behold. It's a real pity that with very few exceptions, modern lenses are not constructed like this anymore.
The aperture ring has large cutouts in the grip which make it easy to operate. The ring is almost 3/8″ wide so quick adjustments even with thick fingers is possible. The detents in the action on my lens are still snappy and audibly click through.
The focus ring is somewhat narrower, but it is still quite beefy and easy to use. It features a straight knurl pattern which is easy to grip and feels secure even if your fingers are greasy.
The print on the lens is still very crisp and clearly legible. In summary, the ergonomics of this lens are splendid.
A Note to Canon Full Frame Users
Those of you with a full frame or APS-H camera body should note that this lens will require modification before it can be used on such a system. The reason for this is a protrusion which sticks out the back (some models might not have it).
This protrusion interferes with the travel of the mirror, and if you decide to pop the lens on anyway, you may break the reflex mirror on your camera.
Note that this is not an issue on APS-C crop sensor camera bodies.
Optical Performance
I will post sample shots taken with this lens as time becomes available 🙂
Some Reference Links to Chew On
Leave a Reply