Mar
17
This article is part of the small but growing Index of Pancake Lenses!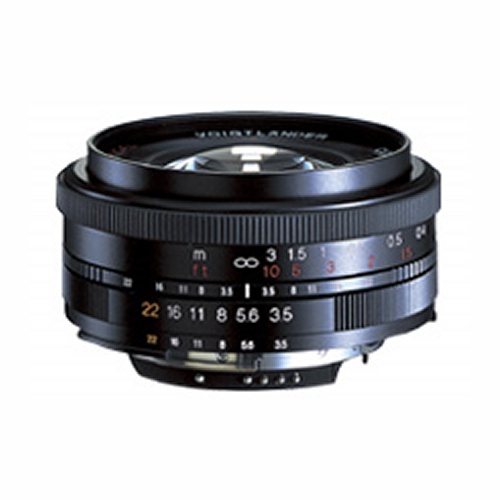 Specifications for the Cosina-Voigtlander Color-Skopar 20mm f/3.5 SL II


"Honorary Pancake"

Years Produced
2009 - Still in production
Street Price
US - $549.00 (In 2009)
• USA pricing for this lens announced on Mar 20, 2009
Lens Type
Wide Angle
Available Mounts
• Nikon F
• Pentax K
• Canon EF
• Canon EF-S

• This lens was made available in Canon EF mount in late 2009
Optical Construction
9 elements in 6 groups
• Gaussian type lens
Weather Sealing
No
Aperture Blades
9 - Circular blade pattern
Focus Type
Manual Focus
Image Stabilization
No
Min. Focus Distance
• 0.20m
• (7.87 inches)
Dimensions
• 63.0 x 28.8mm
• (2.48 x 1.13 inches)
Weight
• 205g
• (7.23 ounces)
Filter Size
52mm
Hood
Optional LH-20
This lens was released officially on February 28, 2009. It is a bit of a surprise happiness bomb among manual focus lens aficionados, and if it's optical quality is anywhere near the impressive Voigtlander Ultron 40mm f/2.0, a sister model, it will be one magnificent beast indeed.
Although not technically a pancake lens, I personally felt it belongs here because of it's diminutive size. It is a mere 4mm thicker than the Ultron, and the engineers at Cosina have figured out how to make this little gem a 20mm wide angle lens for full frame cameras.
Similar to the Ultron, it also has AI-S circuitry onboard, giving electronic functions to Nikon camera bodies. The lens is also available in Pentax K-mount as well. Unfortunately there are not many pictures of this lens out in the wild yet. The manufacturer does not have any high resolution stills available on their site yet (at time of writing). I will probably end up purchasing one for myself in due course simply based on how impressive the Ultron 40mm is.
Some Notes for Canon Adapters
The rear of this lens does not have any protrusions, and is almost identical in appearance to the Ultron 40mm f/2.0 from that end. That means you can mount this lens without worry using a Nikon F/Pentax K to Canon EF adapter. There are many good options for doing this. I am still searching for the best compromise in this respect. My personal favorite would be a unit that had the solid feel of the Fotodiox Nikon F to Canon EF adapter (Pro version), but had a programmable onboard AF confirm chip like Tagotech's. More info will be coming as these various chips and rings arrive in the coming weeks from eBay.
Updated May 2010 – This lens was made available for the Canon EF/EF-S mount in late 2009. I have not had the opportunity to handle this lens or its cousin, the Ultron 40mm in their native Canon mounts. I would be interested in seeing how the EF 'chipping' is dealt with.
Some Reference Links to Chew On
One Response to 'Cosina-Voigtlander Color-Skopar 20mm f/3.5 SL II'
Leave a Reply