Mar
11
This article is part of the small but growing Index of Pancake Lenses!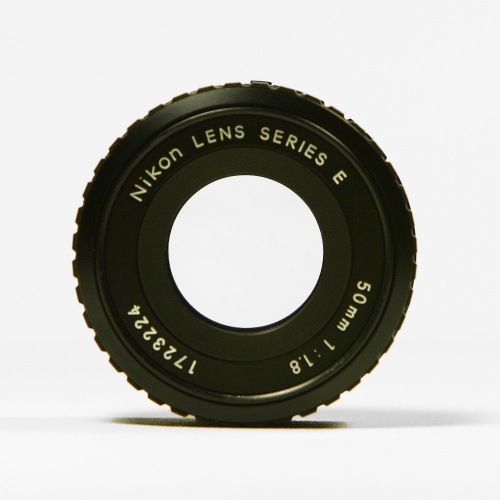 Specifications for the Nikon Nikkor AiS 50mm f/1.8 (Series E)


"Honorary Pancake"

Years Produced
1978 - 1985 (Discontinued)
• There were many different revisions of this lens, and subtle differences exist across each revision
• Commonly available on the used market, usually around $50-$90 USD
Street Price
US - $65.00 (In 1978)
Lens Type
Normal
Available Mounts
• Nikon F

Optical Construction
6 elements in 5 groups
• Gaussian type lens
Weather Sealing
No
Aperture Blades
6
Focus Type
Manual Focus
Image Stabilization
No
Min. Focus Distance
• 0.60m
• (23.62 inches)
Dimensions
• 62.0 x 24.0mm
• (2.44 x 0.94 inches)
Weight
• 135g
• (4.76 ounces)
Filter Size
52mm
Hood
Optional HR-4 screw-in rubber type
I have one of these lenses, which spent many years of its life sitting in a little paper bag in the bottom of a box. It had a cracked rear element from suffering a drop and I inherited it as sort of a random hand-me down. Of course I don't own any Nikon camera bodies so it was of limited use. One day I decided to look on eBay for a replacement, and with parts from both crippled lenses a new reliable one was reborn. It now spends a good amount of time mounted to of all things a Canon camera body.
Lens Versions
There are actually many different versions of this lens. This page will serve as a bit of a 'marker' for now, as I am still gathering information about each design revision, and will see how that affects this page structure from how different the lenses are from one another. The following is a quote by David Kelly in the discussion on this page:
There are no less than nine(yes nine!) variations of Nikkor 50mmf1.8 lens and none of them is called "pancake." They are: AI, AIS, AIS-S, AIS-N, E(plastic ring) E(chrome ring) AF, AFN and AFD. Whew! Roland Vinks serial number list has links to pix of each here: http://www.photosynthesis.co.nz/nikon/serialno.html
Construction & Ergonomics
This is a solid little lens, with all metal construction and available in black finish for the version that I have.
The focusing ring is very usable. The grip is a textured block pattern in the metal which is generally good, but unlike a knurled pattern it can be a bit slippery to use at times especially in the presence of a tiny bit of moisture or oil.
The aperture ring suffers from the same problem and on my copy of the lens it has a bit of a sloppy feel to it, which I will chalk up to mechanical slack with use over time, and having taken it apart to undergo an amateur rebuild. Below is a shot of the lens with its aperture blades visible.
* WPG2 CANNOT LOCATE GALLERY2 ITEM ID 47283 *
Some Notes for Canon Adapters
This is a great lens to adapt to Canon digital cameras for both crop sensor and full frame. There is no protrusion on the back of the lens like other Nikon lenses which would cause mirror slap problems for full frame cameras, and this lens translates into a very nice portrait length on crop sensors.
The wide general availability of this lens makes it very affordable and easy to get a hold of. If you get the chance to examine one in person, pay attention to the aperture blades especially at the f/2.8 setting. Some samples might be affected with a similar flaw that the Konica Rokkor 40mm lenses have where the blades take a 'staggered' effect.
This can make the blurred backgrounds on your images look 'rushed' or somewhat unpleasant. Both of the lenses I have exhibit similar effects- one has the stagger while the other one is 'lopsided' on one of the aperture blades. This is not an issue when shooting wide open at f/1.8 of course.
I will update this page to include sample photos taken with this lens as time becomes available.
3 Responses to 'Nikon Nikkor AIS 50mm f/1.8 (Series E)'
Leave a Reply