Mar
11
This article is part of the small but growing Index of Pancake Lenses!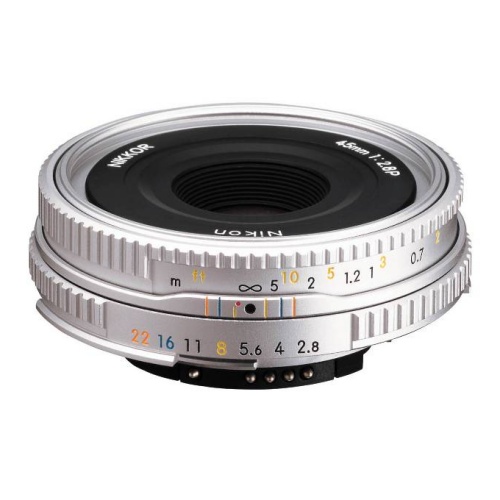 Specifications for the Nikon Nikkor AiS 45mm f/2.8


"Pure-bred Pancake"

Years Produced
2001 - 2005 (Discontinued)
• Originally available in both natural satin and black finish
Street Price
US - $300.00 (In 2001)
• Pricing can be very high for this lens, anywhere from $450-$700 for a mint condition unit
Lens Type
Normal
Available Mounts
• Nikon F

Optical Construction
4 elements in 3 groups
• Tessar type lens
Weather Sealing
No
Aperture Blades
7 - Circular blade pattern
Focus Type
Manual Focus
• Manual focus, with electronic confirmation
Image Stabilization
No
Min. Focus Distance
• 0.45m
• (17.72 inches)
Dimensions
• 64.0 x 17.0mm
• (2.52 x 0.67 inches)
Weight
• 120g
• (4.23 ounces)
Filter Size
52mm
Hood
Nikon HN-35 (included)
This lens seems to provoke a love it or hate it reaction across Nikon shooters. The criticism is grounded in the way that the lens seems to focus more on aesthetics rather than function. For me as a user of Canon digital camera bodies, and I must say there is quite a bit of envy that the fine folks at Nikon released a pancake lens at all while Canon focuses on the linebacker monsters like the EF 85mm f1.2L, or the 50mm f1.2L.
The Nikkor pancake is positively waiflike, clocking in at 120g and despite it's small size it is solidly built. I have read from several sources that this lens is actually manufactured by Cosina, which I cannot verify. It is likely and makes a lot of sense though. Optics manufacturers routinely interoperate, and Cosina has a history of collaborating with Nikon. On top of that, Cosina has a proven track record with design and manufacturing of pancake lenses.
Pricing is unfortunately sky-high. This lens appears to have been more of a collector's oddity as most specimens I have seen are all mint in box examples. I could be wrong though, as the owners probably just took very good care of them. The fact remains however that this lens was not produced in large quantities, was not priced to be easily affordable, and was not marketed as a beginner lens at all.
Some Reference Links To Chew On
Official specifications page at Nikon.com
Lens being tested at Pop Photo
Leave a Reply