Jun
17
This article is part of the small but growing Index of Pancake Lenses!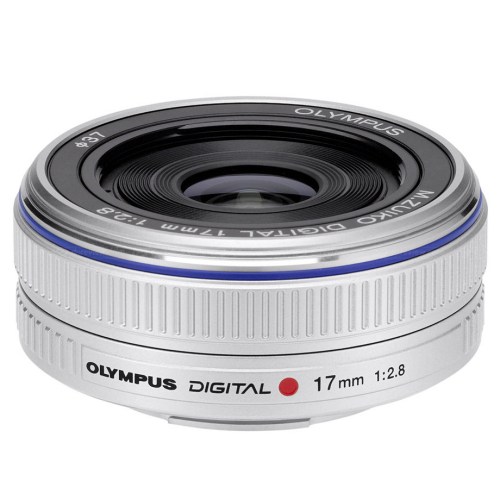 Specifications for the Olympus M.Zuiko Digital 17mm f/2.8


"Honorary Mini Pancake"

Years Produced
2009 - Still in production
• This is one of the first prime lenses released for the Micro Four Thirds lens mount
• Scheduled to be released in July 2009
Street Price
US - $249.99 (In 2009)
Lens Type
Normal
Available Mounts
• Micro Four Thirds

Optical Construction
6 elements in 4 groups
• Gaussian type lens
Weather Sealing
No
Aperture Blades
5 - Circular blade pattern
Focus Type
Automatic Focus with DC motor
Image Stabilization
No
Min. Focus Distance
• 0.20m
• (7.87 inches)
Dimensions
• 57.0 x 22.0mm
• (2.24 x 0.87 inches)
Weight
• 71g
• (2.50 ounces)
Filter Size
37mm
Hood
Not included with kit
This is an exciting little lens from Olympus, masters of compact cameras (as opposed to the monster camera bodies and lenses from the likes of Nikon and Canon). It is one of the first prime lenses for the Micro FourThirds mounting, and hopefully a harbinger of excellent things to come.
However, it has not lived up to its expectations, performing a bit too softly wide open for comfort. It also suffers from some poor performance relative to its closest current competition- the magnificent Panasonic Lumix 20mm f/1.7 pancake lens.
Still, there are many users who are perfectly happy with this lens despite its design compromises- and once stopped down to f/4 or f/5.6 it is quite sharp and currently there are no competitors for the light weight and small dimensions it offers.
Some Reference Links to Chew On
Leave a Reply