Mar
11
This article is part of the small but growing Index of Pancake Lenses!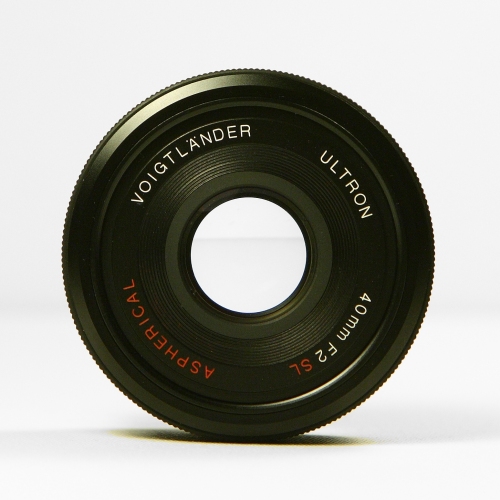 Specifications for the Cosina-Voigtlander Ultron 40mm f/2.0 SL II


"Honorary Pancake"

Years Produced
2005 - Still in production
• According to some sources this lens was also produced briefly in the Olympus OM mount, but this has yet to be verified
• Cosina-Voigtlander tends to produce lenses in smaller numbers compared to other manufacturers
Street Price
US - $379.00 (In 2005)
Lens Type
Normal
Available Mounts
• Nikon F
• Pentax K
• Canon EF
• Canon EF-S

Optical Construction
6 elements in 5 groups with 1 aspherical element
• Zeiss-Planar type lens
Weather Sealing
No
Aperture Blades
9 - Circular blade pattern
Focus Type
Manual Focus
Image Stabilization
No
Min. Focus Distance
• 0.45m
• (17.72 inches)
• The lens includes a separate close-up lens which fits over the lens hood and allows minimum focus of 0.25m. Magnification is 1:4 with this setup
Dimensions
• 63.0 x 25.0mm
• (2.48 x 0.98 inches)
Weight
• 200g
• (7.05 ounces)
Filter Size
52mm
Hood
Included, inverted-dome shaped. Has an additional 49mm filter for the nested cap
I purchased one of these lenses for myself, and I like it quite a lot. I picked the Nikon mount version, and it is mounted on my Canon 1D Mark III and Canon 40D bodies via an adapter made by Fotodiox.com. Save yourself some money and buy their adapters through eBay. It is invariably cheaper that way than going through their online store. Rest assured that the protrusion coming out the back of the lens does NOT interfere with the mirror of the 1D/5D series full-frame body. One of the cool things about this lens for Nikon body users is that electronic metering support is built in to this lens.
Update – Now Available in Canon EF Mount
In late 2009, this lens was made available for the Canon EF mount. The EF version works well with both crop sensor and full frame bodies.
Construction & Ergonomics
The Ultron 40 f/2.0 is VERY well made. It's basically all metal, and has a very solid and reassuring sense of ergonomics. The focus ring actually has a textured rubber element to it, making grip very snappy and crisp. Be aware that for Canon users, everything made for Nikon is 'in reverse', as is the direction of the focus ring.
The aperture blades are beautifully rounded, as shown in the picture below.
What's Included
The lens comes with a hood, lens cap (for the hood) and close-up magnification lens that is meant to give the lens a bit of a macro edge.
It's a Damn Good Lens
Even at f/2.0, this is a pretty sharp lens based on my subjective testing. Reviews of this lens are generally very good. This gentleman has put together a fine review (scroll down on his page for English) complete with MTF charts detailing the lens' performance, so that won't be covered here.
Every once in a while I wonder why Canon feels as if they can't be be bothered to release such a lens. Their current 50mm f/1.4L simply does not come close to the feel of this one. However, don't mistake my annoyance at Canon for envy. This lens does a very fine job and with the mount adapter setup to work the way it does, I couldn't care less if the brand on the front said Praktica or Polaroid. It works on my camera body. If you own a Pentax or a Nikon, that's one less step for you to worry about.
Mounted on a Canon Digital Rebel XTi (400D) it is a surprisingly small, and almost pocketable camera!
Even when mounted on one of the larger Canon 1D series bodies, the camera becomes something you don't normally associate with a 1D-sized frame…. it becomes nimble, and almost portable.
This lens is probably the best option for most people who want the faster f/2.0 aperture and don't want to purchase a discontinued lens. Be aware however that if you're in the USA, none of these lenses are covered under Cosina-Voigtlander warranty! That means if the lens breaks you're out of luck unless you can find a local shop that supports it, or are willing to ship it back to Japan for work.
Depending on who you ask, this lens was apparently once available in the Olympus OM mount. It is my first Cosina-Voigtlander lens, but I have not verified this to be true. Most likely it is just an Internet-fueled rumor. There is no mention in the instructions of the lens for Olympus support anywhere.
Along the same lines are apparently the only criticism by some people towards the manufacturer is that they tend to  have relatively short production runs. It could just be clever marketing, but the performance of this lens makes a very convincing argument to get it new while it's hot!
Some Reference Links To Chew On
Some Sample Shots
These are just a few sample shots that I have taken with this lens. The lens is wide open at f/2.0 for all of these shots. The EXIF information in the photos should be ignored because the Nikon F adapter I was using does not support EF communications.
Some Macro Sample Shots
These are a few sample shots taken with the macro lens attachment. All shots were handheld at 1/50sec, f/8.0, at 100ISO. The EXIF information if you click through should be ignored, because I was using a Nikon F adapter supported EF communications but registered any lens connected to it as a 50mm f/1.8.
8 Responses to 'Cosina-Voigtlander Ultron 40mm f/2.0 SL II'
Leave a Reply