Archive for the 'Places' Category
Jun
4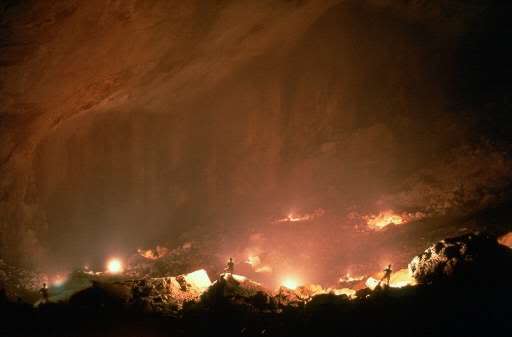 The Sarawak Chamber is the largest known underground chamber of its kind in the world. It is part of the 'Good Luck Cave' system which is located in Gunung Mulu National Park, in the Malaysian state of Sarawak on the island of Borneo.
The chamber is not yet fully explored, and roughly measures about 700m (2,300 feet) long, 400m (1,300 feet) wide and at least 70m (230 feet) high. To get a sense of how much space this is, imagine the amount of land you would need to park ten Boeing 747-400 aircraft in line.  That's a lot of space! The irregular shape of Sarawak Chamber would probably fit at least 30 more inside if the ground was flat, and the entrance was big enough… well, it's safe to say that I would have to be making a good number of assumptions indeed. In any event- It's BIG.
Apr
1
Alang is where ships of all sizes and nationalities go to die.
Located on the western coast of India, the great differences in shoreline between low and high tides allow ships to easily beach themselves where they are then disassembled on the spot. Dozens of ships are broken up here every year, and tens of thousands of workers flock here to earn a living in what could best be described as a free-for-all involving hand labor, blowtorches, and hammers.
Mar
17
Something I had not noticed before until the other morning, when I took a different subway going to work. Hidden in a fenced-off garden just feet away from the street. Shot was hastily taken as the lighting was perfect, with the Cosina-Voigtlander Ultron 40mm f/2 manual focus lens.
Mar
14
Socotra is an archipelago of islands in the Indian Ocean off the Horn of Africa that hosts some of the more interesting plant and animal species in the world.
Its separation from the African mainland occurred sometime in the Miocene geologic era, a period roughly 5 to 23 million years ago, and this isolation is one of the primary causes for the continued survival of its indiginous species.
Mar
1
Quick! You're going to build one of the tallest hotels ever, and where would you possibly put it on the world? Could it be London? New York? Dubai? Las Vegas?
Feb
27
This is one of the largest man-made holes in the world, a diamond mine deep in the reaches of Siberian Russia. It is about 600 meters deep (that's over 1800 feet for the American folks). The top layer of the hole is about a mile across, and a little over half a mile wide.
According to the Wikipedia article, the open-air mining will cease around 2010, and operations will shift into an underground manner. A few of the research papers devoted to this mine state that diamonds are probably still available to a depth of about 1000 meters or so.
The settlement near the mine is named after it (Udachny), and also feels local weather patterns because of being next to this giant hole.
You can see this mine for yourself via Google Maps.
Oct
23
I stumbled into this today, and it was a complete sensory treat.
This is definitely something I've had dreams about before, a pet store filled with hot dogs, sausages, fishnuggets, bunnies, chicken nuggets, deli meats, plastic plants, and other goodies.
Okay, perhaps I did not dream about the masturbating monkey, or the aged Tweety bird, or the CCTV nest, but perhaps it's better that way that I didn't.