May
7
This article is part of the small but growing Index of Pancake Lenses!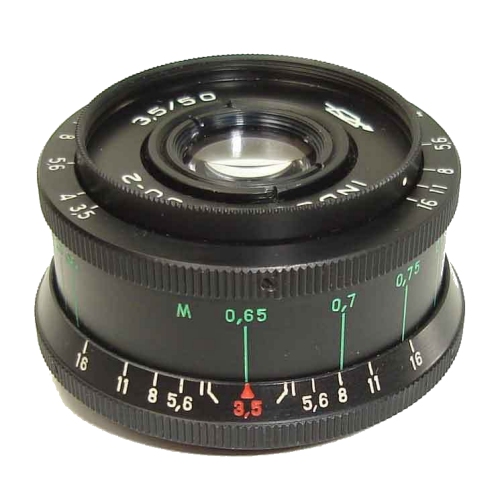 Specifications for the Industar 50-2 50mm f/3.5


"Pure-bred Pancake"

Years Produced
1968 - 1991 (Discontinued)
• My Russian is very basic, so these dates should be taken with a boulder-sized grain of salt
Street Price
US - $10.00 (In 1968)
• Street price for this lens is unknown, so price is quoted in USD instead of Soviet era rubles
Lens Type
Normal
Available Mounts
• Leica M
• M39

Optical Construction
4 elements in 3 groups
• This lens actually has a focal length of 52mm, but is branded as a 50mm for convenience's sake
• Tessar type lens
Weather Sealing
No
Aperture Blades
7
Focus Type
Manual Focus
Image Stabilization
No
Min. Focus Distance
• 0.65m
• (25.59 inches)
Dimensions
• 50.0 x 19.0mm
• (1.97 x 0.75 inches)
Weight
• 65g
• (2.29 ounces)
Filter Size
36mm
• There is an additional internal filter thread which appears to be 33mm x 0.5mm
Hood
Здравствуйте! The image for this lens comes from Androsua@ebay, who used to sell these lenses at his eBay store.
The branding with this lens might cause a little bit of confusion. This section attempts to document that:
This lens should not be confused with its predecessor, the Industar 50.
Additionally, this lens should not be confused with the I-50C (also known as the I-50S since the letter S has the same sound as Cyrillic C)
Additionally, this lens should not be confused with the I-50У (also knwon as the I-50U for the same reasons as above). This lens is a completely different design as well.
Again, despite the similarities in the model name- those are all different lenses.
Lastly, some versions of the I-50-2 were made for the M39 mount so be aware of this if you are purchasing one on the used market.
This article will assume the stats for the SLR M42 revision between 1968 and 1991, which was the most commonly made.
Russian lenses have a generally poor reputation in the West, particularly in the USA and it is based primarily on the generalization of Russian equipment (particularly Soviet era) being technologically inferior. The lesson of course is not to judge a book by its cover, and Russian hardware can be very, very good. This particular lens is reasonably sharp and very cheap according to user reviews.
Some Reference Links to Chew On
Leave a Reply