Mar
15
This article is part of the small but growing Index of Pancake Lenses!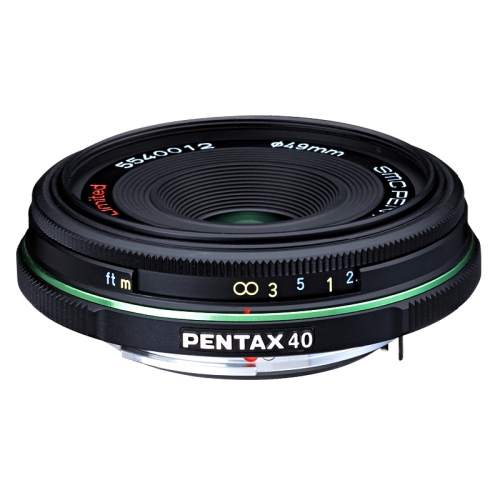 Specifications for the SMC Pentax DA 40mm f/2.8 Limited


"Honorary Pancake"

Years Produced
2005 - Still in production
• Comes with a DA 40mm lens cap
Street Price
US - $399.00 (In 2005)
Lens Type
Normal
Available Mounts
• Pentax K

Optical Construction
5 elements in 4 groups, with coatings
• Zeiss-Planar type lens
Weather Sealing
No
Aperture Blades
9
Focus Type
Automatic Focus with Piezoelectric motor
Image Stabilization
No
• Image stabilization is available, dependent on camera body- but it is not provided by the lens
Min. Focus Distance
• 0.40m
• (15.75 inches)
Dimensions
• 63.0 x 15.0mm
• (2.48 x 0.59 inches)
Weight
• 90g
• (3.17 ounces)
Filter Size
49mm
Hood
MH-RC 49mm (included)
This is a very compact lens designed for the Pentax K mount crop-sensor SLR camera bodies. The effective focal length becomes 60mm with those systems.
Note that this lens despite being built for crop sensor cameras is apparently useful on full framed Pentax film bodies as well. Boris Liberman has some test shots on his site that show the DA 40mm in action, mounted on his film body. Viginetting for this lens is not as bad as you would expect.
Some Reference Links to Chew On
Leave a Reply