May
6
This article is part of the small but growing Index of Pancake Lenses!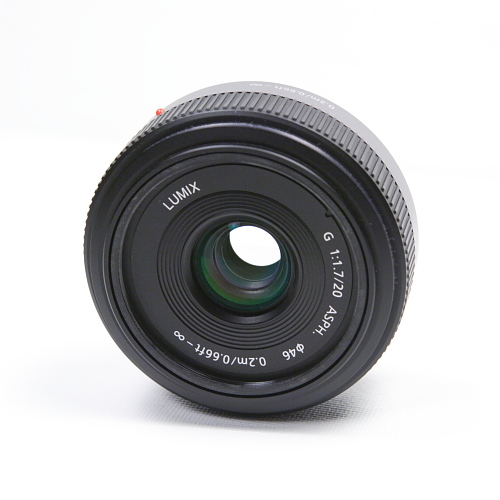 Specifications for the Panasonic Lumix G 20mm F1.7 ASPH


"Honorary Pancake"

Years Produced
2009 - Still in production
• Curiously, this lens is also branded as 'H-H020' by Panasonic.
Street Price
US - $399.99 (In 2009)
Lens Type
Macro
Available Mounts
• Micro Four Thirds

Optical Construction
7 elements in 5 groups, with 2 aspherical elements
• This lens translates into a 40mm prime due to the MicroFourThirds crop factor of 2:1
• Gaussian type lens
Weather Sealing
No
Aperture Blades
7 - Circular blade pattern
Focus Type
Automatic Focus with DC motor
Image Stabilization
No
• Some Micro Four Thirds camera bodies do have in-body image stabilization
Min. Focus Distance
• 0.21m
• (8.27 inches)
• Maximum magnification ratio 0.13x
Dimensions
• 65.0 x 26.0mm
• (2.56 x 1.02 inches)
Weight
• 100g
• (3.53 ounces)
Filter Size
46mm
• Step-up filters can be problematic on this lens as it retracts fully on power down
Hood
There is no dedicated hood mount on the lens, but concievably anything fitting to a 46mm filter should work
This is a welcome new addition to the pancake lens crowd. Very well received by the public, it is perhaps everything that the Olympus 17mm f/2.8 could have been.
Panasonic's first Micro Four Thirds pancake prime lens is a stellar performer with center to edge sharpness, and one of the fastest lenses available in the double gauss design format.
Construction & Ergonomics
Built like a tank, the Panasonic features a full metal mount, and is substantially heavier than it looks. Perhaps the only fault against it would be the manual focus ring which does not have a fixed start or stop end to end. However this is really not an issue with the design of the lens itself- Micro Four Thirds lenses typically have as a design feature their drive motors decoupled from the actual focus ring.
Some Reference Links To Chew On
Leave a Reply