Mar
15
This article is part of the small but growing Index of Pancake Lenses!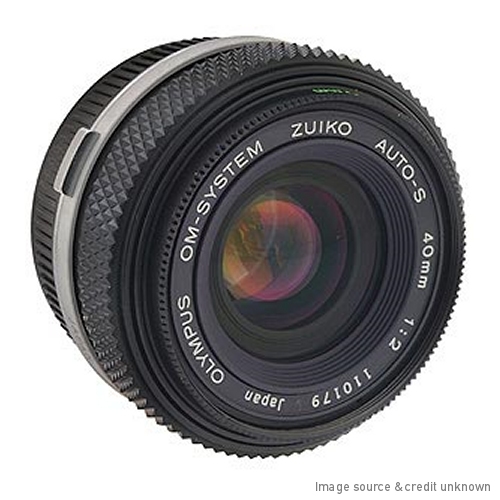 Specifications for the Olympus OM Zuiko 40mm f/2.0


"Honorary Pancake"

Years Produced
1987 - 1994 (Discontinued)
• This lens is somewhat harder to find on the used market
Street Price
US - $95.00 (In 1987)
• Pricing for this lens is sky-high, at $550-$700USD (year 2009)
Lens Type
Normal
Available Mounts
• Olympus OM

Optical Construction
6 elements in 6 groups with coatings
• Gaussian type lens
Weather Sealing
No
Aperture Blades
6
Focus Type
Manual Focus
Image Stabilization
No
Min. Focus Distance
• 0.30m
• (11.81 inches)
Dimensions
• 60.0 x 25.0mm
• (2.36 x 0.98 inches)
Weight
• 140g
• (4.94 ounces)
Filter Size
49mm
Hood
The main drawback of this lens is the astonishingly high prices they command in the used market. At time of writing in early 2009, copies were trading on eBay for around $550-$750 for a new copy. They are generally hard to find, and I must admit that I've never seen one in person. Their rarity is explained by the followign three factors:
Low Production Numbers and High Initial Cost

– Apparently only 10,000 copies of the lens were built, and it was expensive even when initially released.

Relatively Late Release in the OM Mount Timeline

– Showing up late to the party may have cost this lens dearly. Among the presence of many existing Zuiko prime lenses that did a better job technically than this lens for less money, the marketplace voted against the pancake.

Driven by Personality

– This lens' existence was largely driven by the chief designer at Olympus, Dr. Yoshihisa Maitani. It may have been a wonderful and technical marvel in his eyes, but perhaps not to consumers who found better value elsewhere among Olympus' lineup.
As a result, some Olympus fans are very critical of this lens performance, and have condemned it to the heap of "collectible only" items. Despite these issues, it still is a fine lens on its own, and from my subjective opinion based on what I can see of the lens it seems to have excellent ergonomics. The focus ring is plentiful and looks easy to operate. The aperture setting wheel may be narrow, but the presence of the ring bump might make it easier to select and adjust.
Some Reference Links To Chew On
Leave a Reply